15 Jan 2019
Further notebook power supply fake-shop present for months via Google AdWords
next notebook power supply fake-shop discovered:
…whoever falls for it is probably to blame – obvious power supply fake-shop discovered. In regular intervals notebook power supply fake shops come and go. In some instances, those fake-shops even, illegally of course, used the IPC-Computer database as blueprint for their website.
If you search for "Notebook power supply" shows this result in the hits from the section "Shopping"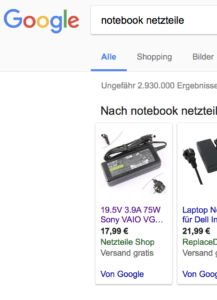 Original Sony power supplies for 17,99 EUR gross and free shipping – the alarm bells should be ringing!
You will be linked to this shop: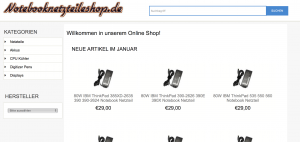 We are increasingly approached by customers about a shop that offers notebook spare parts under these domains:
netzteile-notebook.com
netzteilenotebook.de
notebooknetzteileshop.de
All three notebook power supply shops offer almost the same products.
Besides notebook power supplies, they also sell batteries, coolers, displays, digitizer pens and others at dumping prices.
After a closer look it's obvious that this is once again a fake-shop. It most likely sells cheap Chinese fake products to German customers.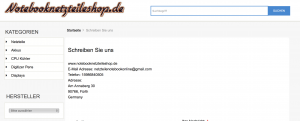 These aspects indicate a fake-shop:
Many spelling mistakes and translation errors on various pages.
Unrealisticly cheap prices.
Various products are discontinued by the manufacturer.
Some product images show counterfeits e.g. Sony power supplies.
The imprint is incomplete with questionable content
The contact telephone number is not assigned.
No sales tax ID or an invalid sales tax ID is specified.
The company is not registered in the commercial register.
The domain owner Steven Chen has a registered address in China.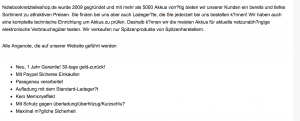 There are supposedly already complaints against the website operator.
Source: http://www.onlinewarnungen.de/warnungsticker/netzteilenotebook-de-und-notebooknetzteileshop-de-sind-das-serioese-onlineshops-ihre-erfahrungen/
Don't make any experiments – in our IPC-Computer Online-Shop you will find all notebook power supplies, notebook batteries and much more available on the market – Link to Notebook-Power-Supply-Finder
In this vide, the safety-relevant differences between a fake power supply and an original Sony power supply are clearly explained and shown. Attention: Power supply counterfeiting can be dangerous due to lack of safety devices and in extreme cases can be life-threatening
Update from 12.05.2018
The domain www.elektronetzteil.de is also a fake shop.